LG SL4 300W 2.1 CHannel Bluetooth Adaptive Sound Control Sound Sync Built-in Wireless Subwoofer Soundbar
Price

RM899.00

RM1,199.00

Product SKU
SL4
Brand
LG
Availability
In Stock
Quantity
Description
Highlight
Carbon woofer
Adaptive Sound Control
Wireless subwoofer
Connectivity
Bluetooth Streaming
TV Sound Sync
Adaptive Sound Control
Music, movies and even the news all have different audio profiles. LG Sound Bar SL4 featuring Adaptive Sound Control identifies what's being played and automatically adjusts the sound mode to create the ideal audio experience.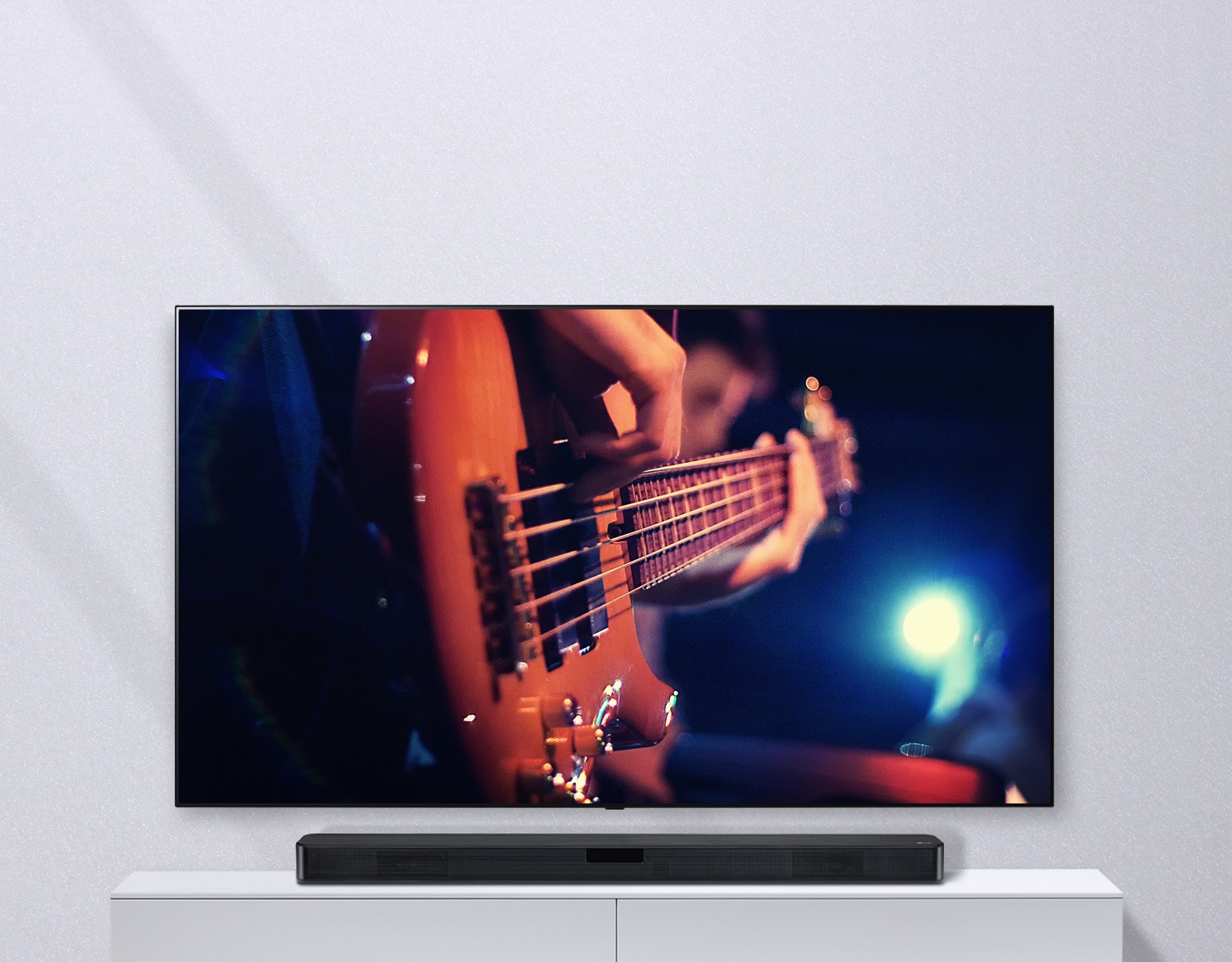 Wireless Subwoofer
Feel the beat with the powerful LG Sound Bar SL4 wireless subwoofer - convenient and easy to install, it pumps out extra 200 watts.
Versatile Connectivity
LG Sound Bar SL4 has various inputs and convenient options such as Optical and Bluetooth®.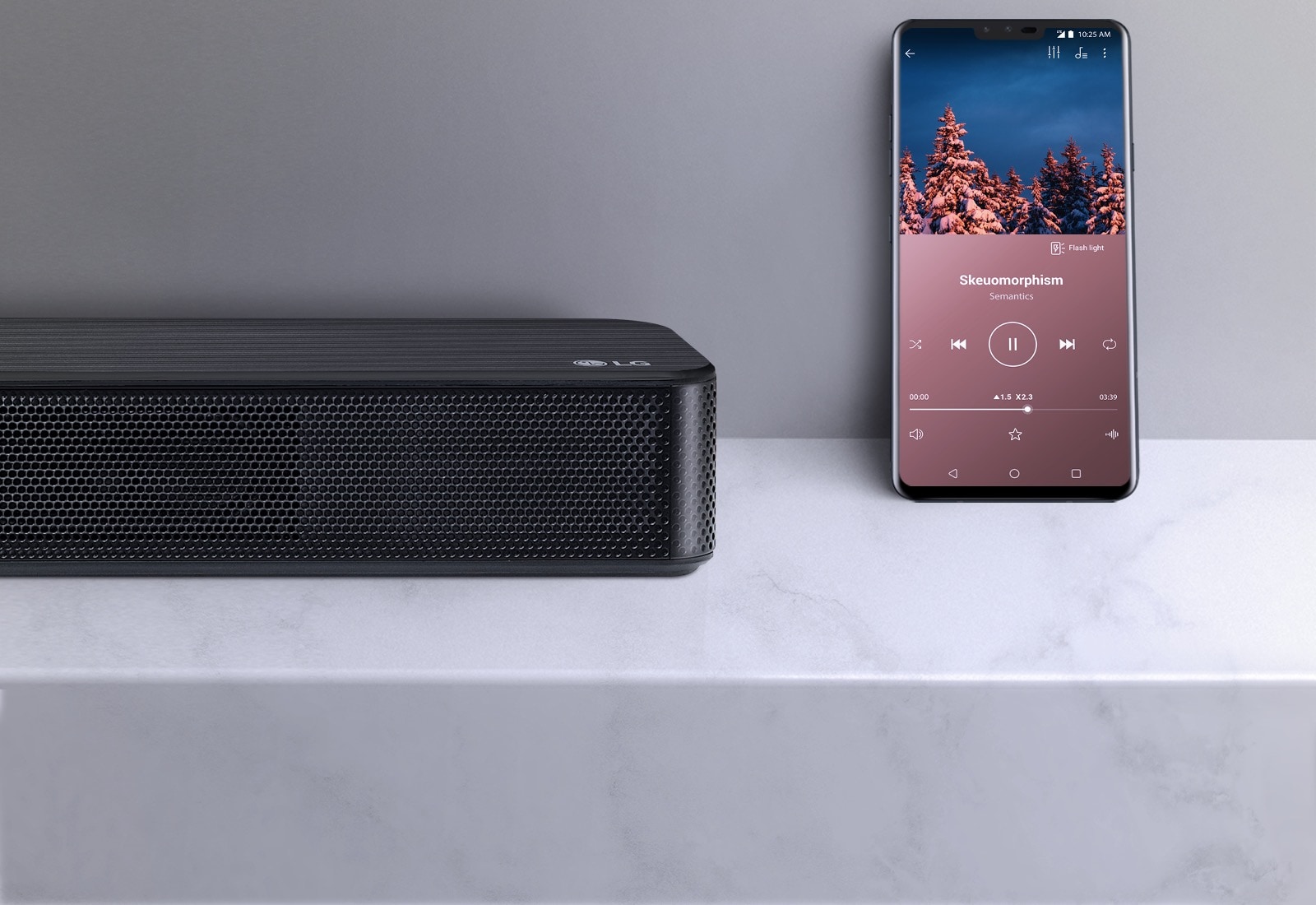 Bluetooth, Stream Anything
Streaming music directly via Bluetooth® from your smartphone to LG Sound Bar SL4.
TV Sound Sync
LG Sound Bar SL4 can be simply connected to your LG TV via Bluetooth® and optical. Enjoy more plentiful TV sound with a simple connection.
PHYSICAL
Size (W x H x D) mm - Main (w/o foot ) mm

890 x 57 x 85

Size (W x H x D) mm - Main (w/ foot ) mm (Matching TV size ('18 New Designed LG TV))

40 inch ↑

---

Size (W x H x D) mm - Main (w/o foot ) mm (Addtional Foot (H) mm)

14mm

Size (W x H x D) mm - Subwoofer

171 x 390 x 261

---

Material - Mainset (Front)

Mold

Material - Mainset (Top / Bottom)

Mold/Mold

---

Material - Subwoofer (Front)

Jersey

Material - Subwoofer (Body)

Wood

---

Net Weight (Kg) - Main

2.25Kg

Net Weight (Kg) - Subwoofer

5.3Kg

---

Carton Size (W x H x D) mm

984 x 217 x 547

Carton Type

Offset (L)

---

Gross Weight (Kg)

9.53Kg

Container Q'ty - 20ft

400

---

Container Q'ty - 40ft

960

Container Q'ty - 40ft (HC)

960

---
CHANNEL / OUTPUT POWER
Channel

2.1ch

Output Power (THD 10%) - Total

300W

---

Output Power (THD 10%) - Front

50W X 2

Output Power (THD 10%) - Subwoofer

200W (Wireless)

---
SPEAKER
Main - SPL

82dB

Main - System

Closed

---

Main - Woofer Unit

40 x 100mm/4ohm

Main - Impedance

4ohm

---

Subwoofer - SPL

85dB

Subwoofer - System

Bass Reflex

---

Subwoofer - Woofer Unit

6 inch

Subwoofer - Impedance

3ohm

---
CONNECTIVITY
General - Optical

Yes (1)

General - USB

Yes

---

Wireless - Bluetooth 4.0

Yes

Wireless - Bluetooth 4.0 (Bluetooth Codec(SBC / AAC))

Yes/No

---
INFORMATION DISPLAY
Display Type

LCD (5 Char.)

---
SOUND MODE
Sound Effect - ASC (Adaptive Sound Control)

Yes

Sound Effect - Standard

Yes

---

Sound Effect - Bass Blast / Bass Blast +

Yes

Sound Effect - Cinema

Yes

---

Tone control - User EQ (RCU / App)

Yes/Yes

Night Time - On/Off (RCU / App)

No/Yes

---

Auto Sound Engine - Default

Yes

SFX - Default

Yes

---

Dynamic Range Control - On/Off (RCU / App)

No/Yes

Auto Volume Leveler - On/Off (RCU / App)

No/Yes

---
CONVENIENCE
Smart Phone & Tablet Remote App - iOS / Android OS

No/Yes

Smart Phone File Playback

Yes

---

Control with your TV Remote - Vol + , - , Mute

Yes

Sound Sync - Bluetooth (LG TV)

Yes

---

Sound Sync - Optical

Yes

Automatic Power on/off - Bluetooth (LG TV)

Yes/Yes

---

Automatic Power on/off - Optical

Yes/Yes

A/V Sync - 0~300ms (RCU / App)

No/Yes

---

Woofer Level - -15~+6dB

Yes

Mute

Yes

---

Auto Dimmer

Yes

USB Host

Yes

---

Bluetooth Stand-By

Yes

---
AUDIO FORMAT
LPCM

Yes

Dolby Digital

Yes

---

DTS Digital Surround

Yes

MP3

Yes

---

WMA

Yes

---
POWER CONSUMPTION
Main - Type (Adaptor)

25V, 1.52A

Main - Power Off Consumption

0.5W ↓

---

Main - Power Consumption

23W

Subwoofer - Type (SMPS)

100~240V, 50/60Hz

---

Subwoofer - Power Off Consumption

0.5W ↓

Subwoofer - Power Consumption

33W

---

Subwoofer - Wireless Frequency

5.8GHz

---
ACCESSORY KIT
Owners Manual - Web

Yes (Full)

Owners Manual - Book

Simple/Yes

---

Owners Manual - Wall Mount Guide

Yes

Remote Control Unit - Model Name

MA7

---

Remote Control Unit - Battery(Size)

AAA x 2

Batteries

Yes

---

Warranty Card

Yes

Optical Cable

Yes

---

Wall Mount Bracket

Yes

Additioanl Foot

Yes

---

Box Type

Offset (L)

---
What's in the box
1x LG 300W 2.1 CHannel Bluetooth Adaptive Sound Control Sound Sync Built-in Wireless Subwoofer Soundbar