Samsung WD-17T6300GP/SP BLACK 17.0kg Wash | 10.0kg Dryer Ai Ecobubble Intelligent Wash Hygiene Steam Washing Machine
Price

RM4,299.00

RM5,799.00

Product SKU
WD-17T6300GP/SP BLACK
Brand
Samsung
Availability
In Stock
Quantity
Description
Highlight
Intelligent Wash - Wash easily and effectively with powerful AI Control. It personalizes washing by remembering your habits, suggesting cycles and displaying timely information
Eco Bubble™ - Enjoy efficient cleaning, even at low temperatures* with Eco Bubble™ technology
Hygiene Steam - Give clothes a deep, hygienic clean with steam
Fights stains, protects fabric
Eco Bubble™
Enjoy efficient cleaning, even at low temperatures* with Eco Bubble™ technology. Detergent is turned into bubbles, so it quickly penetrates fabric and removes dirt easily, while saving energy and protecting its color and texture**.
Powerful clean in 30 mins*
Speed Shot
Complete a Cotton course in 30 minutes* with Speed Shot. Using Bubble Shot and Speed Spray technologies, it shoots powerful jets of water infused with detergent, which rapidly penetrate a large area of fabric. It also shoots clean water into the fabric to quickly extract more detergent residue.
Sanitize with hot air
Air Wash
Keep clothes hygienically fresh without water or detergent. Air Wash technology deodorizes and sanitizes items, so they smell fresh. The 'Air Sanitize' course removes 99.9% of bacteria*, as well as dust, mites and odors, while 'Air Bedding Care' ensures bed linen and blankets are clean and fluffy.
99.9% sanitization*
Hygiene Steam
Give clothes a deep, hygienic clean with steam. A Sanitize cycle with steam improves the cleaning quality of a wash without pre-treatments. It releases steam from the bottom of the drum, so every item is thoroughly saturated. This removes ingrained grime and 99.9% of bacteria*.
Less noise
VRT Plus™
Do your laundry anytime and anywhere without disturbing anyone. Innovative VRT Plus™ technology reduces noise and vibration during washes*. The new frame design provides great stability to minimize noise movement, while vibration sensing technology detects and reduces vibration from the motor.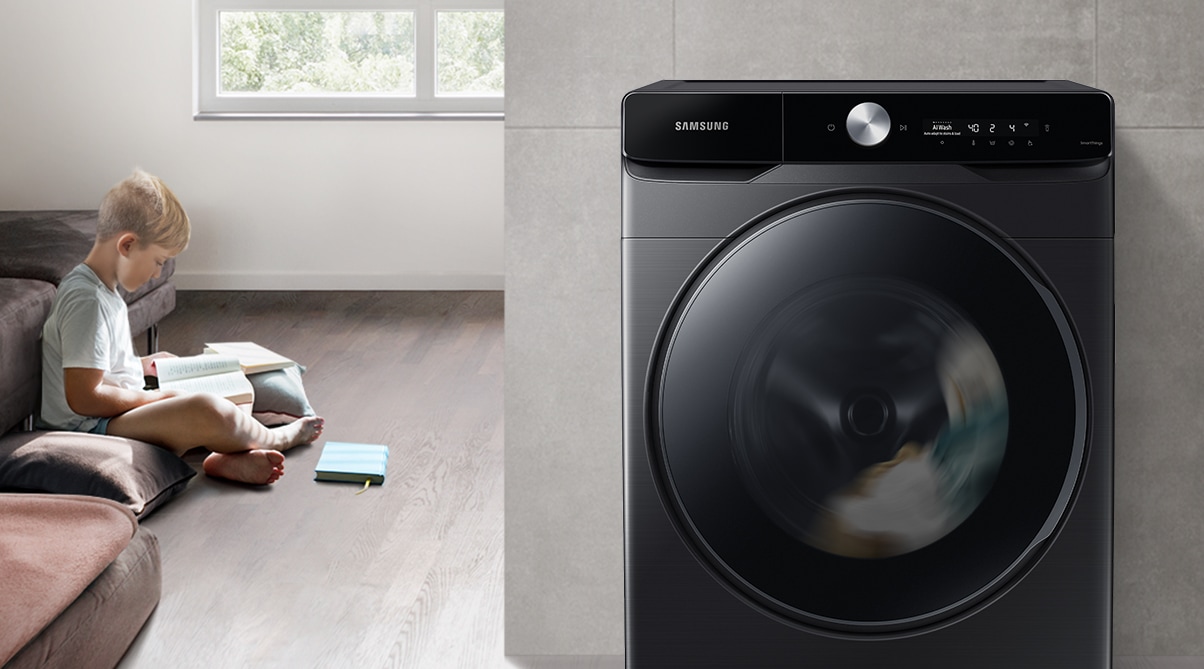 Sanitize drum & gasket*
Drum Clean +
Keep the door and inside of your washer hygienically clean. Drum Clean + removes 99% of dirt and 99.9% of odor-causing bacteria* from the drum, without costly detergent. Powerful water jet and fast spinning remove grime from the door gasket. You will also be notified when you washer needs cleaning**.
* Based on testing by Intertek of the Drum Clean + cycle. Eliminates 99.9% of bacteria from the inside of the washer and removes 99% of dirt from the rubber gasket.** Provides a notification after every 40 cycles.
Specifications
Washing Capacity17.0 kg

VRTVRT+

Physical specification686 x 984 x 796 mm

Net Weight97 kg
Washing Capacity
Washing Capacity (kg)17.0 kg
Drying Capacity
Drying Capacity (kg)10.0 kg
Design
Body colorInox
DoorTint Door
Panel DisplayAI Control
Performance
Water Rating (tick)4 tick
Water Consumption4.7 L/kg
Feature
AI ControlYes
AddWashNo
Add GarmentsYes
Air WashYes
Spin Speed1100 rpm
Bubble SoakYes
Bubble technologyYes
MotorDIT
VRTVRT+
Interior Drum LightYes
Language SettingYes
Smart ControlYes
Smart CheckNo
Speed ShotYes
Child LockYes
Delay EndYes
Door LockYes
Drum Clean+Yes
Drum typeSwirl Plus
Dry LevelCupboard, Extra, Delecates, Time dry
Drying Time selectorYes
Hot/Cold Water InletHot+Cold
My CycleYes
Quick WashYes
SteamYes
Super SpeedNo
Cycle
Active WearYes
Air Bedding CareYes
Air SanitizeYes
Baby CareYes
BeddingYes
Cloudy DayYes
Clean WashYes
CottonYes
ColorsYes
Deep SoftnerYes
Drum Clean+Yes
Dry OnlyYes
Eco Bubble+Yes
Power Bubble+Yes
Quick WashYes
Rinse + SpinYes
Self Tub DryYes
ShirtsYes
Thin BeddingYes
TowelsYes
Wash+DryYes
WoolYes
Hygiene SteamYes
Physical specification
Net Dimension (WxHxD)686 x 984 x 796 mm
Net Weight97 kg
Gross Dimension (WxHxD)767 x 1142 x 887 mm
Gross Weight105 kg
Smart
App Connectivity
SmartThings App SupportYes
What's in the box
1x Samsung WD-17T6300GP/SP BLACK 17.0kg Wash | 10.0kg Dryer Ai Ecobubble Intelligent Wash Hygiene Steam Washing Machine