Price

RM2,299.00

Product SKU
S3-Q12JA3WA
Brand
LG
Availability
In Stock
Quantity
Description
Highlight
Faster Cooling
Energy Saving
Less Noise
DUAL Inverter Compressor™
CARBON TRUST (UK)
The carbon footprint of this product has been measured and certified by the CarbonTrust
Faster Cooling, Faster Comfort
Get comfortably cool faster with the LG DUAL Inverter Compressor™.
Save on Energy Bills and the Planet
Reduce your energy consumption and your electricity bill with more efficient cooling.
Good Work Goes Unnoticed
Don't get disturbed and sleep soundly with an air conditioner that makes less noise.
DUAL Inverter Compressor™
Efficient, Faster, Durable, Quieter
Powered by DUAL Inverter Compressor™ Technology.
10-Year Warranty
With a 10-year warranty on the compressor, it will keep performing at its best for longer.
Pre-Filter
Traps Big Dust from the Start
Traps big dust particles as the first line of defense.
Allergy Filter
Reduce Allergens for Healthier Air
Remove allergy-causing substances, such as house dust mites, floating in the air.
Approved by BAF
*BAF has approved that the filter is coated to remove harmful substances - such as house dust mite, fungi, and mold floating in the air - that can cause allergies.
Auto Cleaning
An Internal Clean that's Automatic
Automatically dries any moisture inside the air conditioner to ensure it's always clean.
Easy-to-Monitor Energy Consumption
The display keeps you informed so you can easily monitor and reduce energy consumption*. *Energy consumption during A/C operation.
Environment-Friendly Refrigerant
Prevent environmental pollution with R32 refrigerant's improved energy efficiency.
Control 4 Levels of Energy Consumption
Control energy consumption with 4 levels based on your needs, whether alone or with family.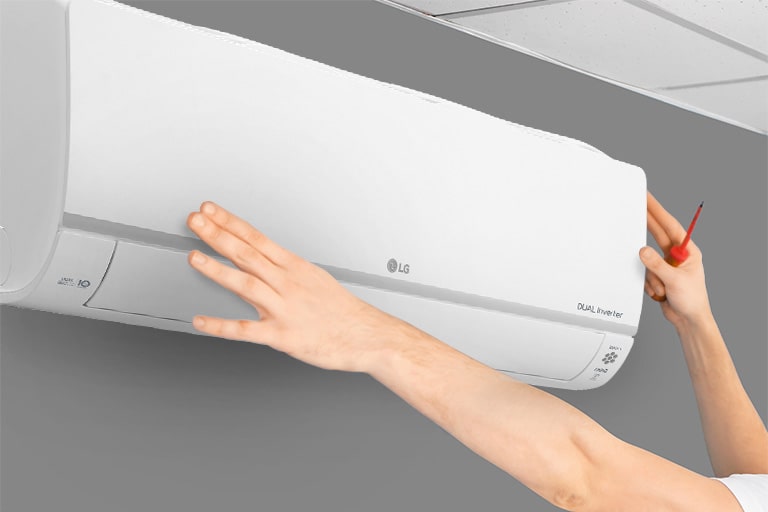 Quick and Easy Installation
Enjoy cool air sooner with air conditioning that takes less time and effort to install.
A More Comfortable Sleeping Environment
Experience the most comfortable sleeping environment with automatically adjusting functions*. *When the comfort sleep function is activated.
Safety Against Voltage Fluctuation
Enjoy a durable air conditioner with an ability to withstand voltage fluctuation*. *LG Internally tested "rated voltage ± 30%" fluctuation and it may vary depending by environment.
DIMENSIONS
SUMMARY
CAPACITY - MIN.~RATED~MAX.(BTU/H)

2,000 - 12,000 - 13,500

DIMENSION INDOOR - (W × H × D MM)

837 x 308 x 189

KEY FEATURE

DUAL INVERTER COMPRESSOR

KEY FEATURE

10-YEAR COMPRESSOR WARRANTY

COOLING CAPACITY

Rated (Min - Max) Btu/h

12,000(2,000 - 13,500)

POWER INPUT

Rated (Min - Max) W

1,030 (200 - 1,290)

RUNNING CURRENT

Cooling (A)

5.90

POWER SUPPLY

Ø / V / Hz

1, 220-240, 50

MOISTURE REMOVAL

l/h.

1.25

AIR FLOW RATE

Indoor,Max (㎥/min)

13.0

Outdoor,Max (㎥/min)

28.0

SOUND LEVEL

Indoor,H/M/L/SL (dB(A))

41/35/27/21

Outdoor,Max (dB(A))

50

DIMENSION

Indoor Unit (WxHxD) (mm)

837 × 308 × 189

Outdoor Unit (WxHxD) (mm)

720 × 500 × 230

NET WEIGHT

Indoor Unit(kg)

8.7

Outdoor Unit (kg)

23.0

PIPING CONNECTIONS

Liquid (mm)

Ø 6.35

Gas (mm)

Ø 9.52

PIPE EXTENSION

Chargeless Pipe Length (m)

12.5

Additional Refrigerant Gas (g/m)

15

Maximum Pipe Length (m)

20

Maximum Elevation Length (m)

15

AIR FLOW

Air Supply Outlet

1

Airflow Direction Control (Left & Right)

Manual

Airflow Direction Control (Up & Down)

6 Steps

Auto Swing (Up & Down)

Yes

Fan Speed Steps (Fan / Cool / Heat)

6 / 6 / No

Natural Wind (Auto Wind)

Yes

Jet Cool / Jet Heat (Power Wind)

Yes / No

Comfort Air

Yes

AIR PURIFYING

Prefilter (Washable / Anti-Bacteria)

Yes

Micro Dust Filter

Yes

RELIABILITY

Self Diagnosis

Yes

Dry (Dehumidification) Operation

Yes

CONVENIENCE

Auto Operation (Artificial Intelligence)

Yes

Auto Cleaning (Coil Dry)

Yes

Auto Restart Operation

Yes

Forced Operation

Yes

Sleep Mode

7hr

Timer 24hr (On/Off) / 7hr (Off)

Yes / No

Smart Diagnosis

Yes

Indoor Unit Display Type

Number Display

Indoor Unit Display Light

On/Off

ENERGY SAVING

Energy Control

Active Energy Control

INDIVIDUAL CONTROL

Handheld Wireless Controller-Setting Temperature Range (Cooling)

16~30 °C (60~86 °F)
What's in the box
1x Lg S3-Q12JA3WA 1.5hp Dual Inverter R32 Gold Fin Air Conditioner Blower Compressor